Recruitment Process Optimization
Ocean Sales facilitates development of a customized and optimized end-to-end recruiting process, with a focus on recruiter productivity. We review your process and compare it to your goals and industry best practices. We then help eliminate extra or low-value-add steps, or introduce tools such as applicant tracking systems and process changes that will speed your existing workflow.

We look at your entire process, from planning and requisition approvals through sourcing and interviewing to the selection decision, and from offer approvals through offer acceptance and onboarding. We review your process from every angle — paper forms, emails, ATS steps, in-person meetings, calls, complaints, etc. The selection of tools, technology and outsourcing partners is a key element of a company talent acquisition strategy.
Talent Sourcing Landscape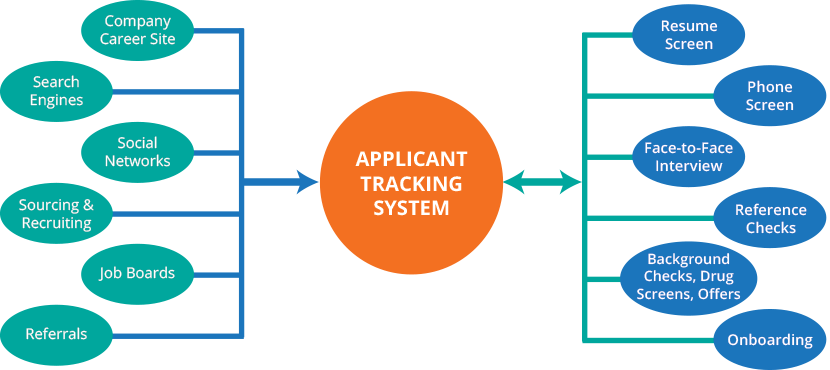 Applicant Tracking System for Candidate Progress from Sourcing to Hiring
The recruiting process is complicated — from sourcing the appropriate candidates, pooling resources for interviews, tracking the applicant, keeping both the client and the candidates up-to-date about progress, next steps and much more. All easily managed with an Applicant Tracking Systems.
An applicant tracking system (ATS) is necessary and will need to be purchased by any company that takes recruiting and Talent Acquisition / Development seriously. These are also called a candidate management systems, a software application designed to help companies large and small recruit employees more efficiently. There are many applicant tracking systems, or ATS, with varying levels of complexity.
Ocean Sales will provide recommendations on Applicant Tracking Systems to consider based an analysis company anticipated hiring, recruiting resources, processes and corporate culture acceptance of this kind of technology; and implementation including customization for each individual company.
Applicant Tracking System Benefits

Enhance Visibility, Extend your reach - share your job openings with the world! Publish job openings to your company website and the most popular job boards to increase exposure and source top talent.
Let your Brand Create a Lasting Impression - use the power of your brand to find candidates by creating a custom Careers Website Page that seamlessly blends with the rest of your site.
Minimize Process Time, Maximize Efficiency - manage resumes the smart way; parse, search, filter, trace status, tag or associate with job openings.
Never Let Candidates Wait, Respond Instantly - narrow down and centralize multiple communication channels onto a single platform to avoid logging into each client. Retrieve or trace communication with candidates or clients, from within their respective records.
Create and Implement your Custom Workflow - customize every aspect of your workday by creating workflows to automate tasks giving you time to take care of everything else.
Applicant Tracking Systems